Nutrition & Health Research Institute
The first domestic R&D center based on enterprise, to perform systematic studies on the nutritional needs and metabolic mechanisms of the Chinese people in order to achieve national health improvements.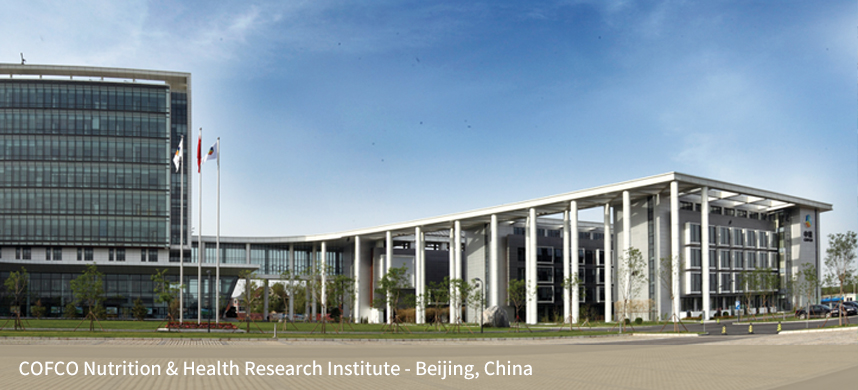 COFCO NHRI is the core R&D institution of COFCO. Its mission is to "improve the people's life quality through the research and development of good products and services in the industry chain, based on life science and devotion to nutrition and health". COFCO NHRI's vision is for "Innovation that exceeds customer demands, technology that leads healthy China " keeping this in mind as we carry out R&D innovation on Processing and Application technology, Food Innovation, Biotechnology, Animal Nutrition and Feed, Nutrition and Metabolism, Food Quality and Safety, Consumer Insight and market research , Knowledge Management, and other fields.
COFCO NHRI has been noted as a key laboratory by several State, Provincial or Ministerial departments including "Beijing Key Laboratory of Nutrition, Health, and Food Safety", "the National Bio-Liquid Fuel Research and Development (Experimental) Center", "academician expert workstation"、"Postdoctoral Workstations". COFCO NHRI is also leading the establishment of the"Nutrition and Health Food Industry Technology Innovation Strategic alliance"and been authorized as an affiliated units of the"Cereals and Oils Nutrition Sub-Association Chinese Cereals and Oils Association". It has additionally been named a "National Food Quality Supervision and Inspection Center","State Grain Bureau Grain and Oil Quality Inspection Center" and "co-certification laboratory on national reference materials for natural products". Our testing laboratories of food quality and safety have passed through international laboratory accreditations, national food inspection agency qualifications, etc., winning the "Capital Civilized Unit", "Demonstration Units of the State Bureau of foreign experts", "National food science and technology Demonstration Unit of State Administration of Grain", The Practical base of State Intellectual Property Office", and other honorary titles.
Together with the COFCO family and stakeholders, COFCO NHRI seeks to strengthen public research and development through the creation of an open-source national R&D innovation platform.