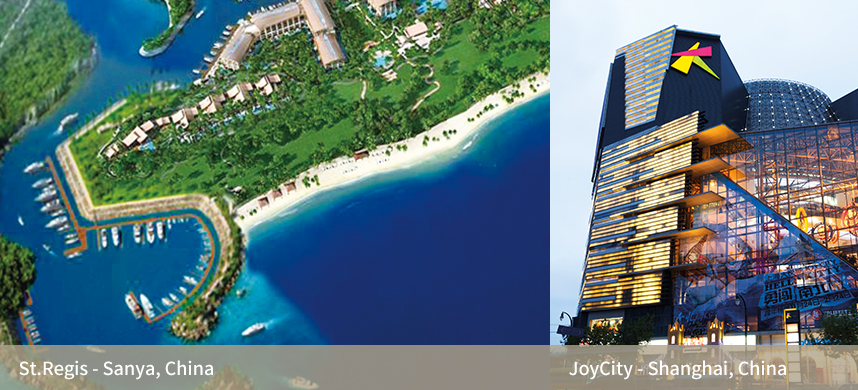 COFCO Land is a specialized company engaged in the development of real estate. Our mission is to offer high-quality and environmental-friendly life spaces and services, leading the trend of a fashionable lifestyles to maximize benefits to customers, shareholders and staff. COFCO Land has developed the Joy City urban complex brand with a two-wheel-drive business strategy of holding and selling: preserving our hold on operations while heavily developing sales. This has organically established a "General Asset Management Strategy" development model, and Joy City is a strong brand and real estate leader. COFCO Land has well positioned product lines in diversified real estate categories.
In commercial real estate, COFCO Land has been successful with youthful, fashionable, trendy and quality brand positioning. The 18-35 years old young middle class is our core customer base, who flock to the Joy City complexes now in first-tier cities Beijing and Shanghai and second-tier cities Shenyang, Tianjin, Yantai, Chengdu, and Hangzhou. This customer base has responded enthusiastically to Joy City's dedication to strong operations, excellent service, and courageous innovations. As of the end of 2016, there are a total of 8 operating Joy City projects, 3 being constructed, 3 light asset projects and 1 acquisition project.
In residential real estate, COFCO Land has created the brands TOP City, Shine City, Splendid City, and HongYun City as four residential product lines to achieve complementary positioning in location and size.
COFCO Land also has other investment properties in Beijing, Shanghai, Shenzhen, Sanya and other thriving developing cities. These investment properties are a combination of high-end hotels, office buildings, and tourism real estate projects, all with excellent location, superior quality, and value-added spaces.
COFCO Land is continuously exploring. We are currently working on a groundbreaking eco-satellite city that will be a harmonious combination of urban and rural life and a hub for the health science and technology industries: the Beijing Agricultural Eco-Valley.